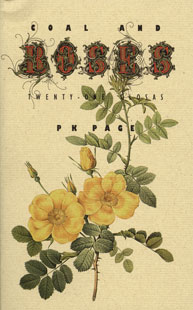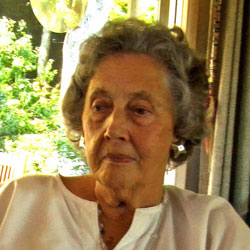 Biography
P.K. Page is the author of more than a dozen books, including poetry, a novel, short stories, essays and books for children. Awarded a Governor General's Award for poetry (The Metal and the Flower) in 1954, Page was also on the shortlist for the Griffin Poetry Prize (Planet Earth) in 2003 and awarded the BC Lieutenant Governor's Award for Literary excellence in 2004. P.K. Page died in January 2010.
Judges' Citation
"Though we were not to know it, Coal and Roses was the last book [of poetry] to be published by P.K. Page, appearing months before her death at the age of 93. Therefore it marks the close of a long and creative life. How heartening to be reminded that creativity, zest and curiosity can endure, even flourish, into great old age. Coal and Roses is wholly unusual and possibly unique. It's a collection of 21 glosas – a glosa being an intricate difficult form. Each poem begins with four lines from another poet – Anna Akhmatova, Thom Gunn, Zbigniew Herbert and Ted Hughes all feature – and those four lines are then spun and meditated upon by Page herself, to form a new poem, where every stanza closes with a line from the master. The result is a history of poetry, a kind of memoir and a homage from one nearing life's end, to her forebears and colleagues. It is a fully achieved project, which does what literature does best – abolishes the borders of life and death, time and culture and language, and sets all in a great conversation."
Summary
P.K. Page's Coal and Roses is a collection of 21 intricately formal glosas – an early Renaissance form, first developed by the poets of the Spanish court – arranged to explore the endless possibilities of language. The use of the glosa form serves to emphasize both continuity and evolution, speaking to life, death, a palpable need for belonging and the inevitable passage of time. Spanning numerous centuries, movements, genres and corners of the world, Page explores the works of nineteen artists, including Ted Hughes, Wallace Stevens, Gwendolyn MacEwen, Theodore Roethke, Marilyn Bowering, Dionne Brand and Anna Akhmatova.
Note: Summaries are taken from promotional materials supplied by the publisher, unless otherwise noted.
Dionne Brand reads The Blue Guitar, by P.K. Page
The Blue Guitar, by P.K. Page
The Blue Guitar

They said, 'You have a blue guitar,
You do not play things as they are.'
The man replied, 'Things as they are
are changed upon the blue guitar.'
– The Blue Guitar (Wallace Stevens)

I do my best to tell it true
a thing exceeding hard to do
or tell it slant as Emily
advises in her poetry,
and, colour blind, how can I know
if green is blue or cinnabar.
Find me a colour chart that I
can check against a summer sky.
My eye is on a distant star.
They said, 'You have a blue guitar.'

'I have,' the man replied, 'it's true.
The instrument I strum is blue
I strum my joy, I strum my pain
I strum the sun, I strum the rain.
But tell me, what is that to you?
You see things as you think they are.
Remove the mote within your ear
then talk to me of what you hear.'
They said, 'Go smoke a blue cigar!
You do not play things as they are.'

'Things as they are? Above? Below?
In hell or heaven? Fast or slow …?'
They silenced him. 'It's not about
philosophy, so cut it out.
We want the truth and not what you
are playing on the blue guitar.
So start again and play it straight
don't improvise, prevaricate.
Just play things as they really are.'
The man replied, 'Things as they are

are not the same as things that were
or will be in another year.
The literal is rarely true
for truth is old and truth is new
and faceted – a metaphor
for something higher than we are.
I play the truth of Everyman
I play the truth as best I can.
The things I play are better far
when changed upon the blue guitar.'

From Coal and Roses, by P.K. Page
copyright © P.K. Page, 2009
More about P.K. Page
The following are links to other Web sites with information about poet P.K. Page. (Note: All links to external Web sites open in a new browser window.)
Have you read Coal and Roses by P.K. Page? Add your comments to this page and let us know what you think.
Photo credit: Marilyn Bowering/Hedgerow Press