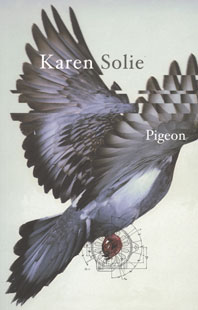 Book: Pigeon
Poet: Karen Solie
Publisher: House of Anansi Press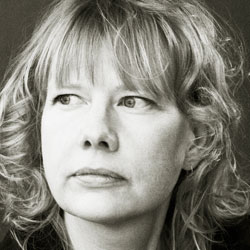 Biography
Karen Solie's first collection of poems, Short Haul Engine, won the Dorothy Livesay Poetry Prize and was shortlisted for the 2002 Griffin Poetry Prize, the ReLit and the Gerald Lampert Memorial Award. Her second, Modern and Normal, was shortlisted for the Trillium Book Award for Poetry. Her poetry, fiction and non-fiction have appeared in numerous North American journals. She is a native of Saskatchewan and now lives in Toronto.
Judges' Citation
"'If virtue is love ordered and controlled,/its wild enemy has made a home in me. And if/desire injures the spirit, I am afflicted,' says Karen Solie in one of Pigeon's finest poems, 'An Acolyte Reads The Cloud of Unknowing.' It's this particular affliction of desire – and the corrosive effects of human desire both upon ourselves and the world we inhabit – that Solie most often meditates upon in poems as humorous, often, as they are sobering. 'Gone are the bad old good old days. Before us,/vast unfenced acres of decline,' she says in 'Prayers for the Sick.' Solie forces us to look squarely at that decline, the landscapes we've ruined, the vistas we've cluttered, in service to a longing that, as she puts it, 'hovers like billboards/over the expressway.' The vision here is powerful, philosophical, intelligent, especially adept at pulling great wisdom from the ordinary – as when a tractor is found to manifest 'fate, forged/like a pearl around the grit of centuries.' It may be, as Solie suggests, that 'the honourable life/is like timing. One might not have the talent for it.' Among the greatest of Solie's talents, evident throughout the poems of Pigeon, is an ability to see at once into and through our daily struggle, often thwarted by our very selves, toward something like an honourable life."
Summary
Karen Solie launched to prominence with her first collection of poems, Short Haul Engine (2001), finalist for the 2002 Griffin Poetry Prize and winner of many other awards and citations. She continued her upward trajectory with Modern and Normal (2005), and is now considered one of Canada's best poets. Pigeon is yet another leap forward for this singer of existential bewilderment. These poems are X-rays of our delusions and mistaken perceptions, explorations of violence, bad luck, fate, creeping catastrophe, love and the eros of danger. Once again, Solie shows that her ear is impeccable, her poetic intelligence rare and razor-sharp.
Note: Summaries are taken from promotional materials supplied by the publisher, unless otherwise noted.
Karen Solie reads Migration
Migration, by Karen Solie
Migration

– for Cathy

Snow is falling, snagging its points on frayed
surfaces. There's lightning
over Lake Ontario, Erie. In the great central
cities, debt accumulates along baseboards
like hair. Many things were good
while they lasted. Long dance halls
of neighbourhoods under the trees,
the qualified fellow-feeling no less genuine
for it. West are silent frozen fields and wheels
of wind. In the north, frost is measured
in vertical feet, and you sleep sitting because it hurts
less. It's not winter for long. In April
shall the tax collector flower forth, and language
upend its papers looking for an entry adequate
to the sliced smell of budding
poplars. The sausage man will contrive
once more to block the sidewalk with his truck,
and though it's illegal to idle one's engine
for more than three minutes, every one of us will idle
like hell. After all that's happened. We're all
that's left. In fall, the Arctic tern will fly
12,500 miles to Antarctica as it did every year
you were alive. It navigates by the sun and stars.
It tracks the earth's magnetic fields
Sensitively as a compass needle and lives
on what it finds. I don't understand it either.

From Pigeon, by Karen Solie
Copyright © 2009 Karen Solie
More about Karen Solie
The following are links to other Web sites with information about poet Karen Solie. (Note: All links to external Web sites open in a new browser window.)
Have you read Pigeon by Karen Solie? Add your comments to this page and let us know what you think.
Photo credit: Barbara Stoneham