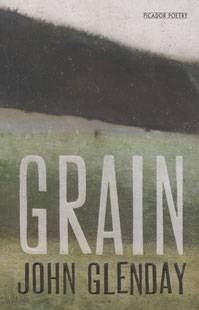 Book: Grain
Poet: John Glenday
Publisher: Picador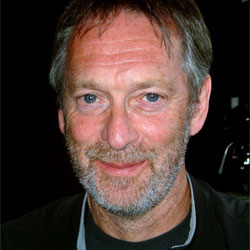 Biography
John Glenday was born in Broughty Ferry in 1952. His first collection, The Apple Ghost, won a Scottish Arts Council Book Award and his second, Undark, was a Poetry Book Society Recommendation. He lives in Cawdor and works for NHS Highland as an addictions counselor.
Judges' Citation
"In John Glenday's work we hear a calm, confiding voice. This is a mature work, Glenday writes slowly and out of necessity, and in Grain, his third collection, he has achieved a work of wry spiritual authority which never preaches or instructs. Alert to Scottish landscapes and turns of phrase, these poems never send readers away bewildered or confused. We are drawn in to shared confidences. His highly crafted lyrics are like wrought iron, strong but delicate, with a care for assonance and cadence. He listens carefully to the language he works in. They're also playful: a tin can, a peculiar fish, invented translations, made-up saints all can suggest poems. It's refreshing to discover a poet whose work is earthly, full of rivers and hills and islands, but where old ideas like 'love' and 'soul' have not been banished. Grain is the work of an unhurried craftsman; John Glenday has made poems of understated integrity and humanity. Sun through the sea/sea in the heart/heart in its noust/nothing is lost."
Summary
Sometimes John Glenday's poems are forcefully direct; sometimes they are so quiet they feel as if the were composed within a capacious listening, as a form of secular prayer. In his third collection, Grain, Glenday's seamless lyric can also disguise some wild and surreal tales: the Beauty and the Beast told in reverse, a bizarre list of new saints, or a can of peaches waiting for the invention of the tin-opener. However, the lasting impression is of a genuinely spiritual poet, one with the ability to turn every earthly detail towards the same clear light.
Note: Summaries are taken from promotional materials supplied by the publisher, unless otherwise noted.
John Glenday reads The Ugly
The Ugly, by John Glenday
The Ugly

I love you as I love the Hatchetfish,
the Allmouth, the Angler,
the Sawbelly and Wolf-eel,
the Stoplight Loosejaw, the Fangtooth;

all our sweet bathypelagic ones,
and especially those too terrible or sly
even for Latin names; who staple
their menfolk to the vagina's hide

like scorched purses, stiff with seed;
whom God built to trawl
endless cathedrals of darkness,
their bland eyes gaping like sores;

who would choke down hunger itself,
had it pith and gristle enough;
who carry on their foreheads
the trembling light of the world.

From Grain, by John Glenday
Copyright © John Glenday 2009
More about John Glenday
The following are links to other Web sites with information about poet John Glenday. (Note: All links to external Web sites open in a new browser window.)
Have you read Grain by John Glenday? Add your comments to this page and let us know what you think.
Photo credit: courtesy of John Glenday