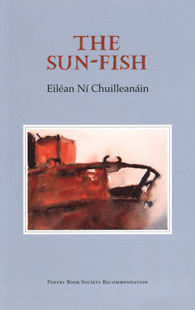 Book: The Sun-fish
Poet: Eiléan Ní Chuilleanáin
Publisher: The Gallery Press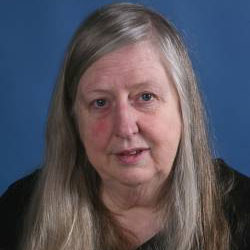 Biography
Eiléan Ní Chuilleanáin was born in Cork City in 1942. She was a founder member of the literary journal Cyphers. She has won the Patrick Kavanagh Award, the Irish Times Award for Poetry, and the O'Shaughnessy Award of the Irish-American Cultural Institute. She is a Fellow and Professor of English at Trinity College, Dublin, and a member of Aosdána. She is married to Macdara Woods and they have a son, Niall.
Judges' Citation
"This beguiling poet opens many doors onto multiple worlds. From the outset, with the startling imagery of 'The Witch in the Wardrobe' – a 'fluent pantry', where 'the silk scarves came flying at her face like a car wash' – we are in a shifting realm, both real and otherworldly. The effect of her impressionistic style is like watching a photograph as it develops. The Sun-fish contains approaches to family and political history, thwarted pilgrimages in which Ní Chuilleanáin poses many questions – not always directly – and often chooses to leave the questions themselves unresolved, allowing them to resonate meaningfully past the actual poem's end. She is a truly imaginative poet, whose imagination is authoritative and transformative. She leads us into altered or emptied landscapes, such as that in 'The Polio Epidemic,' when children were kept indoors, but the poet escapes on a bicycle 'I sliced through miles of air/free as a plague angel descending/On places buses went …' Each poem is a world complete, and often they move between worlds, as in the beautiful 'A Bridge between Two Counties.' These are potent poems, with dense, captivating sound and a certain magic that proves not only to be believable but necessary, in fact, to our understanding of the world around us."
Summary
The Sun-fish reinforces convictions that Eiléan Ní Chuilleanáin's transforming and transporting ways of seeing are like no other: there's the 'whisper of a cashmere sleeve,' the nuns' 'leathery kiss' and a lighthouse 'scraping the sea with its beam.' Poems about men and the men in her family, a 'woman's story and the stories of women,' elegies, homages and her family's history are developed through mist or the gap in a tale. Other poems tease out the tricks of light, at dawn or dusk, to open the lock of language.
Note: Summaries are taken from promotional materials supplied by the publisher, unless otherwise noted.
Eiléan Ní Chuilleanáin reads The Sister
The Sister, by Eiléan Ní Chuilleanáin
The Sister

1

How on earth did she manage
That journey on her own?
When she was a young woman
They had plenty to keep them busy,
They were small, they felt queasy,
They gripped a pillar in the shade
And held on,

And as for leaving home –
Still, the trains have never changed,
They thunder up the valleys,
Built for strapping fellows
Flinging their big bundles
Easily on to high shelves –
Real men.

She turned up at the station,
Small, her clothes, once elegant,
All black. Past the train window
Slid the suburbs, a fast river.
She saw a white-haired man, waist-deep,
Ducking under and rising again –
A cormorant.

2

A lump of a lad handed her bag down to her.
Lopsided she walked as far as the convent door.
They greeted her with a leathery kiss, they told her
Where to find her bed and the hour of dinner.

They knew the silent meal would be no surprise,
No more than the hard bread, tougher at every slice,
Nor the dead silence of night until the first train
Troubled the valley. She would know, lying there,
Others were sitting up, working in pairs,
To finish the stitching, tacking the last of the lace.

But the cold woke her, and a subtle mist, as fine
As gauze, hung on the glass. In the freezing dawn
She dragged a web just as light across her skin,
Veiling herself for good, and she slept on.

From The Sun-fish, by Eiléan Ní Chuilleanáin
© Eiléan Ní Chuilleanáin 2009
More about Eiléan Ní Chuilleanáin
The following are links to other Web sites with information about poet Eiléan Ní Chuilleanáin. (Note: All links to external Web sites open in a new browser window.)
Have you read The Sun-fish by Eiléan Ní Chuilleanáin? Add your comments to this page and let us know what you think.
Photo credit: Brian McGovern/The Gallery Press