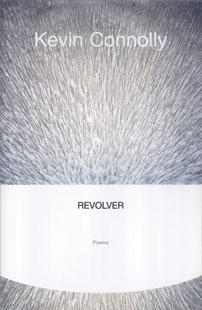 Book: Revolver
Poet: Kevin Connolly
Publisher: House of Anansi Press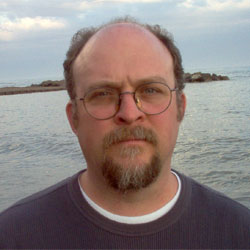 Biography
Kevin Connolly is a poet, editor and arts journalist. His first collection of poems, Asphalt Cigar, was published by Coach House Press in 1995 and nominated for the Gerald Lampert Award. Connolly's second collection, Happy/and, was published by ECW Press in 2002. His most recent collection, Drift, was published by House of Anansi Press in 2005, and won the Trillium Book Award for Poetry. Kevin Connolly lives with his partner, the novelist Gil Adamson, in Toronto.
Judges' Citation
"What sort of warning is being sounded in a book where the table of contents is fictional? Perhaps that the signs are not to be trusted; that you are going to have to find your own way. Such is the promise of the work of Kevin Connolly, one of Canada's most profoundly engaged and rewarding poets. Revolver, his fourth collection, finds him deep in the territory he has made his own: the dark place where we attempt to make sense of the noise we've been making and the sounds coming from others. Through a multiplicity of voices and attacks, maskings and menacings, Connolly conducts an existential research that only pretends to be jokey, only feints at absurdity. But this is not a light-hearted poetry of effects: it's a kind of stand-up comedy done with a flame-thrower. In Revolver, Connolly works subtexts of suspicion, rejecting everything received and shaking the forms to get them to reveal what there is no language for, yet. 'People like people who stand for things', he writes, suggesting it's a misplaced faith, to put your trust in anything you can define. It's a courageous poetic stance, to leave yourself and your reader painted into a corner. But there's a door behind you you won't find until you're pressed up against it, and in this superb collection, Connolly shoves you through that door and out into naked space."
Summary
Kevin Connolly's Revolver is a daring marriage of brilliant technical skill and explosive imagination. Each of the poems in this latest collection is written in a different vocal register – 'revolving' through poetic voices with precise control and sharp wit. Connolly reveals himself to be one of the few poets in Canada who can pull off such a highwire act and make it both thrilling and meaningful.
Note: Summaries are taken from promotional materials supplied by the publisher, unless otherwise noted.
Kevin Connolly Reads Plenty
Plenty, by Kevin Connolly
Plenty

The sky, lit up like a question or
an applause meter, is beautiful
like everything else today: the leaves
in the gutters, salt stains on shoes,
the girl at the IGA who looks just like
Julie Delpy, but you don't tell her –
she's too young to get the reference and
coming from you it'll just seem creepy.
So much beauty today you can't find
room for it, closets already filled
with beautiful trees and smells and
glances and clever turns of phrase.
Behind the sky there's a storm
On the way, which, with your luck,
will be a beautiful storm – dark
clouds beautiful as they arguably are,
the rain beautiful as it always is –
even lightning can be beautiful in a
scary kind of way (there's a word
for that, but let's forget it for the moment).
And maybe the sun will hang in long
enough to light up a few raindrops –
like jewels or glass or those bright beads
girls put between the letters on the
bracelets that spell out their beautiful names –
Skye or Miranda or Verandah – which isn't
even a name, although it is a word
we use to call things what they are,
and would be a pleasant place to sit
and watch the beautiful sky, beautiful
storm, the people with their beautiful
names walking toward the lake
in lovely clothing saying unpleasant
things over the phone about the people
they work with, all of it just adding to the
mother lode, the surfeit of beauty,
which on this day is just a fancy way
of saying lots, too much, skidloads, plenty.

From Revolver, by Kevin Connolly
Copyright © 2008 Kevin Connolly
More about Kevin Connolly
The following are links to other Web sites with information about poet Kevin Connolly. (Note: All links to external Web sites open in a new browser window.)
Have you read Revolver by Kevin Connolly? Add your comments to this page and let us know what you think.