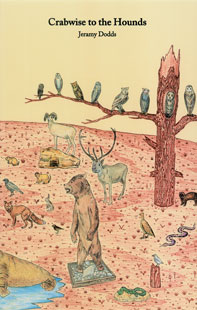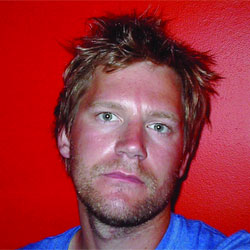 Biography
Jeramy Dodds lives in Orono, Ontario. His poems have been translated into Finnish, French, Latvian, Swedish, German and Icelandic. In 2007 he held a residency at the Baltic Centre for Writers and Translators on the island of Gotland, Sweden. He is the winner of the 2006 Bronwen Wallace Memorial Award and the 2007 CBC Literary Award in poetry. He works as a research archaeologist and co-edits for littlefishcartpress.
Judges' Citation
"'We are only allowed to live/due to some colossal misunderstanding' writes Jeramy Dodds in this astonishing first book. The exploration of this misunderstanding is the subject of Crabwise to the Hounds, and Dodds' language confronts the entropy with some wondrous chaos of its own. There is a cyclonic lexical energy here, deep intelligence, and a serious commitment to craft. His poems build and infold all at once, and opposing forces create incredible tension in them: the reader's mouth, open in awe, next barks a disbelieving laugh. There's more than a little of Buster Keaton here, threading his body through a window in a falling wall: simple marvels that stop you in your own tracks when you begin to think about how they were done. The author seems sui generis at first, but then you sense how lightly he's stepped through the bramble of various inheritances to find his own voice, and on the first try. In 'Making Sure', for instance, Dodds harnesses both Tim Lilburn and William Stafford at the same moment as he's claiming a certain territory for his own now: the natural world occupied by an ineluctable machinery. He builds against it this machine of language in which Glenn Gould negotiates the Danube, Ho Chi Min has gone to 'repair/the night through a colander of stars', the aviary has a recovery wing, and even the act of sipping water is reinvented: 'In stride with the clock's/ hypnotics, his throat chops a glass of water/down'. A research archaeologist by training, Dodds is sounding the deeps here. A marvellous debut."
Summary
The poems in Jeramy Dodds' first collection – with cameos by jackalopes, Glenn Gould, homemade spaceships and Carl Linnaeus – are remarkable for their technical agility and their restless inventiveness – these poems invoke historical figures like Hiram Bingham and Ho chi Minh even as they traverse a poetic landscape that includes telephone-game-style translations, interpretive dance poems on historic paintings and carnivalesque jaunts into a natural world overrun with mules, Alsatians, lions and motorcycle-sized deer.
Note: Summaries are taken from promotional materials supplied by the publisher, unless otherwise noted.
Jeramy Dodds reads The Epileptic Acupuncturist
The Epileptic Acupuncturist, by Jeramy Dodds
The Epileptic Acupuncturist

People who get their rocks off
in glass houses are the same people
who'd bend you over a rain barrel
just to give you the wet T-shirts
off their backs. You can't shoot
your mouth off if you're out of earshot.
Let bylaws be bygones, don't mind
your own business into the ground,
all that glitters is not cold to the touch.
You're only human once. If you've taken
the American way down a one-way street,
you've got to wipe your nose with the heart
on your sleeve. Don't knock yourself up over it,
baby. When they kicked dirt in your eye
they didn't think they'd be losing ground.
If your household name's ruined by word
of mouth, take the gift horse to town for a night
it won't soon forget. Colonel Sanders didn't lick
his fingers to the bone just so you could go it alone.
If you get what I'm getting at, raise your red hand.
You've got to kiss a lot of ass to get a little behind
in this business. Playing your silver spoons
with a bedpan band is like going for broke
at a church bazaar, more need than bother, more
clutch than grasp. You've got to be half in the bag
all the way to the bank. The mind is a terrible thing
to keep chaste. If you can't be drawn to my quarters,
do I part the sea and split? I treat my objects like women,
but I'm as Oedipal as you are Eve. True, I'd drop
a latch-key kid off at an open-cast mine,
but you're nothing to shake champagne at.
I think you'll agree with me here, the lake's
so clear you can see yourself to the door.

From Crabwise to the Hounds, by Jeramy Dodds
copyright © Jeramy Dodds, 2008
More about Jeramy Dodds
The following are links to other Web sites with information about poet Jeramy Dodds. (Note: All links to external Web sites open in a new browser window.)
Have you read Crabwise to the Hounds by Jeramy Dodds? Add your comments to this page and let us know what you think.