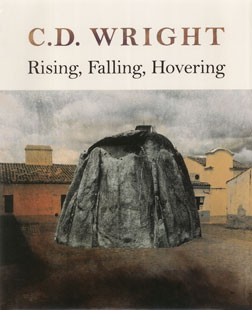 Biography
C. D. Wright was born and raised in the Ozark Mountains of Arkansas. She has published 12 previous poetry collections. Her collaboration with photographer Deborah Luster, a journey into the prison-industrial complex entitled One Big Self, was honoured with a Lange-Taylor Prize from the Center for Documentary Studies. Wright has also received fellowships from the MacArthur Foundation, the Guggenheim Foundation, the National Endowment for the Arts, and the Lannan Foundation. In the 1990s she served for five years as the State Poet of Rhode Island. Wright is currently the Israel J. Kapstein Professor of English at Brown University, and lives outside Providence, Rhode Island.
Judges' Citation
"C. D. Wright's thirteenth collection, Rising, Falling, Hovering, reminds us what poetry is for. This is poetry as white phosphorus, written with merciless love and depthless anger, but it is 'not a chemical weapon, it's an incendiary … it is for illumination'. Rising, Falling, Hovering is about conflict, local and global, and how failures of the heart bring disaster on every scale. In the long poem that anchors this book, Wright ties together the war in Iraq, the war on the poor, the challenges borders present, and family crises to create a portrait of the human soul riven by separateness. It is, primarily, a red-hot political epic, in which Wright states 'to be ashamed is to be American' and that 'happiness is for amateurs'. And yet, how can we react to a poetry this alive with invention and purpose but with joy? In Rising, Falling, Hovering, C. D. Wright wakes the reader – from dreams of both a perfect world and one drowned in horror – to the saving beauty of clear sight. Over a long career marked by deep moral engagement and constant reinvention, Wright has placed herself and her readers 'at a crossroads', as she writes, which is not just a place, but 'the very instant you stopped looking for meaning and began rifling among the folds of feeling instead where things were to be made new again …'"
Summary
Deeply personal and politically ferocious, Rising, Falling, Hovering addresses – 'the commonly felt crises of [our] times' – from illegal immigration and the specific consequences of empire to the challenges of parenting and the honesty required of human relationships.
Note: Summaries are taken from promotional materials supplied by the publisher, unless otherwise noted.
C.D. Wright reads Re: Happiness, in pursuit thereof
Re: Happiness, in pursuit thereof, by C.D. Wright
Re: Happiness, in pursuit thereof

It is 2005, just before landfall.
Here I am, a labyrinth, and I am a mess.
I am located at the corner of Waterway
and Bluff. I need your help. You will find me
to the left of the graveyard, where the trees
grow especially talkative at night,
where fog and alcohol rub off the edge.
We burn to make one another sing;
to stay the lake that it not boil, earth
not rock. We are running on Aztec time,
fifth and final cycle. Eyes switch on/off.
We would be mercurochrome to one another
bee balm or chamomile. We should be concrete,
glass, and spandex. We should be digital or,
at least, early. Be ivory-billed. Invisible
except to the most prepared observer.
We will be stardust. Ancient tailings
of nothing. Elapsed breath. No,
we must first be ice. Be nails. Be teeth.
Be lightning.

From Rising, Falling, Hovering, by C.D. Wright
Copyright 2008 by C.D. Wright
More about C.D. Wright
The following are links to other Web sites with information about poet C.D. Wright. (Note: All links to external Web sites open in a new browser window.)
Have you read Rising, Falling, Hovering by C.D. Wright? Add your comments to this page and let us know what you think.
"We are deeply saddened by the untimely death of beloved poet C.D. Wright, recipient of the 2009 International Griffin Poetry Prize, and a juror in 2014. Her work dazzled us, as did her spirit and her immense compassion." – Carolyn Forché
"For we cometh, for we cometh to judge the light paling the door, not the darkness it obscures." – C.D. Wright

The Griffin Trust For Excellence In Poetry was deeply saddened to learn of the passing of acclaimed poet C.D. Wright on January 12, 2016. The Griffin Trust was honoured to welcome her and her partner, Forrest Gander, for celebrations of the Griffin Poetry Prize when she was shortlisted in 2003 and again when she won the International Griffin Poetry Prize in 2009. We were also grateful to enjoy her wisdom, her wit and her warm company when she served as a Griffin Poetry Prize judge in 2014. Her unflinching but compassionate work, often bold in form but always rooted in place and sympathy, is our comfort as we mourn the loss of such a great artist and friend.
A Tribute to C.D. Wright (October, 2016) from The Center for the Humanities on Vimeo.
Photo credit: Marnie Crawford Samuelson