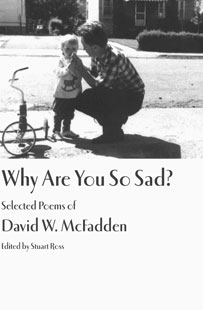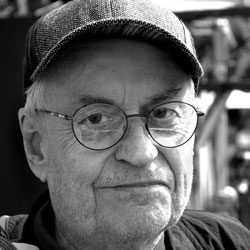 Biography
David McFadden began writing poetry, publishing in famous literary magazines, and corresponding with Jack Kerouac while still in high school in Hamilton, Ontario. He worked as a night proof reader at The Hamilton Spectator through the sixties, at the same period starting his own literary magazine, Mountain. His life in Canadian poetry has spanned five decades and David McFadden is still going strong. An Innocent in Cuba is the most recent of his many travel books over the past 30 years and Five Star Planet the most recent of his many books of poetry. Currently, the author is known to be working in fits and starts on a long series of sonnets. McFadden is that rare and precious breed of artist: he is both a poet's poet and a people's poet. He is currently living a quiet life in a noisy part of Toronto.
McFadden's 2012 collection What's the Score? won the 2013 Canadian Griffin Poetry Prize.
Judges' Citation
"David McFadden has been a major underground poet all his writing life, and the young poets discover him every year. He has always been the darling of the avant-garde, but he is the most readable poet on the planet. Like his hero William Blake, he lives at ease among the most supernatural of events, and gazes in wonderment at everyday things. As a poet he reminds you to be yourself, to be yourself in the world, and give it a chance to amaze you. While reading his beautiful clear language, you sense that he is a trickster, but you cannot help believing every stanza he writes. If there is any such thing as an essential poet, here he is."
Summary
This selection from McFadden's career to date brings back into print many of the greatest poems from nearly two dozen books. The book has been described as astonishing, with the range of its invention, humour, humanity, compassion, description, self-aware sentimentality, insight, fun and ability to take the form of the poem to surprising and startlingly creative places. Chosen and introduced by fellow poet Stuart Ross, in full collaboration with the author, these poems reaffirm McFadden's status as one of Canada's most gratifying, ineffable and necessary poets.
Note: Summaries are taken from promotional materials supplied by the publisher, unless otherwise noted.
David McFadden reads Secrets of the Universe
Secrets of the Universe, by David McFadden
Secrets of the Universe

You're waiting for a bus at Ward and Baker
and a woman comes up to you
and asks for a dance.

You tell her you don't want to dance
for there is too much snow
and not enough music
and she says you didn't mind
dancing with me last night.

And when you tell her she's mistaken
you didn't dance with her or anyone last night
she says oh yes you did
and when you ask where
she says up there
on the roof
and she points to the roof of Hipperson Hardware.

In fact, she says, as her voice drops
and a shy look comes into her eyes
I've even danced with you on other planets
Venus and Mars for instance
and then she walks away

leaving you to wonder about the part of your life
that is secret even from you.

From Why Are You So Sad? Selected Poems of David W. McFadden, by David McFadden
Poems copyright © David W. McFadden 2007
More about David McFadden
The following are links to other Web sites with information about poet David McFadden. (Note: All links to external Web sites open in a new browser window.)
Have you read Why Are You So Sad? Selected Poems of David W. McFadden? Add your comments to this page and let us know what you think.
Photo credit: Ingrid Paulson