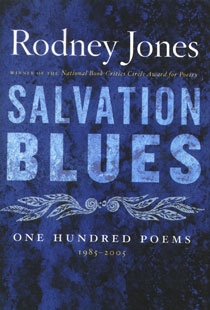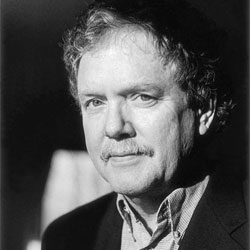 Biography
Salvation Blues is Rodney Jones' eighth book of poetry. Previous collections include Kingdom of the Instant: Poems (2004); Elegy for the Southern Drawl (1999); Things That Happen Once (1996); Apocalyptic Narrative (1993); Transparent Gestures (1989); The Unborn (1985); and The Story They Told Us of Light (1980). He was named a finalist for the Pulitzer Prize and the winner of the 1989 National Book Critics Circle Award. His other honours include a Guggenheim Fellowship, the Peter I.B. Lavan Award from the Academy of American Poets, the Jean Stein Award from the American Academy and Institute of Arts and Letters, a Southeast Booksellers Association Award, and a Harper Lee Award. Rodney Jones is a professor of English at Southern Illinois University at Carbondale.
Judges' Citation
"There are not many poets who get as much of American life in their poems as Rodney Jones. His Salvation Blues, a book made up of one hundred poems taken from six previous collections published over the last twenty years, brings to mind Whitman. Jones asks in a poem, what happened to all the people the older poet cheered westward across the continent? They are all here in his poems, making ends meet, working as farmers, shipping clerks, waitresses, car mechanics, butchers, strippers and teachers, while trying their best to believe in the American dream and a religion whose preachers tend to be actors and salesmen whose pulpit is television. Jones is a marvelous story teller and a contemplative man with an interest in both character and the way the world works. 'Most of us are compositions that begin in error,' he says. He never forgets that. His poems are angry, bawdy, funny, wise and deeply moving. They sing to remind us of our humanity and to heal the language of its long service as a mere tool."
Summary
In Salvation Blues Jones has chosen the best of his previous work and included 25 new poems from the past three years which share a common theme. Ask Rodney Jones how he spends his time these days when he's not writing poetry: he plays jazz guitar; he goes fishing; and he regrets the Bush administration. In describing the new poems in the collection Jones says: 'The new poems make me uncomfortable. They seem aesthetically and politically unflinching, statements of my depression and disgust with the people of the United States.'
Note: Summaries are taken from promotional materials supplied by the publisher, unless otherwise noted.
Rodney Jones reads The United States
The United States, by Rodney Jones
The United States

If you asked what it is all about
I would say a field a green field
in the turning rows a killdeer
and after that barbed wire
the hedge with its cardinals
a blacktop then another field

Corn one of the main things
after water and before milk
for whiskey is in it and grits
gold for chickens pearls before swine
there is a factory in every plant
if we could be properly humble

it is the greatness of the nation
along with cartoon animation
automobiles and rock 'n' roll
jazz and basketball evolved here
but not one other U.S. God
just the corn's imperial row

on row then Sylvester Stallone
and airbrushed Elvis thank you
very much ladies and gentlemen
Presley Dylan and the Supremes
no I would say a field a vast field
at the center top-hogs and cattle

then art the cities New York
Chicago Houston Seattle man
told me last week experts can
teach starlings to talk hell
televangelists may yet witness
in terza rima each stalk of corn

contributes it has been so
hybridized with its immense
ears it no longer resembles
maize it is what we have left
to barter for oil and microchips
tones of it siloed and elevated

to float us through droughts
and wars and speculations we ask
which most cogently represents us
Leaves of Grass or The Simpsons
there is the idea that every
living thing is a subset of human

control and the other notion
that though we may go on
a few hundred or thousand
years the poison has spilled
no more land will be made
the search for another arable

planet may prove moot as the
search for earthly sentience
meanwhile this taco here
crunches in the great scheme of
things we persist one people one
of the potential fates of corn

From Salvation Blues: One Hundred Poems, 1985-2005, by Rodney Jones
Copyright © 2006 by Rodney Jones
More about Rodney Jones
The following are links to other Web sites with information about poet Rodney Jones. (Note: All links to external Web sites open in a new browser window.)
Have you read Salvation Blues by Rodney Jones? Add your comments to this page and let us know what you think.
Photo credit: G. Jones