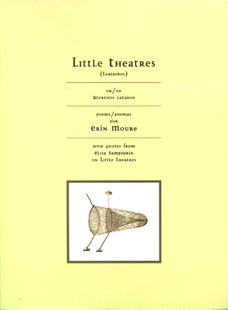 Biography
Erín Moure is a poet and translator based in Montreal with 12 books of poetry to her credit. Her 2002 collection, O Cidadán was a finalist for the Governor General's Literary Award. Sheep's Vigil by a Fervent Person (2001), her translation from the Portuguese of Alberto Caiero/Fernando Pessoa's O Guardador de Rebanhos, was a finalist for the Griffin Poetry Prize and the City of Toronto Book Award. Both A Frame of the Book, also known as The Frame of a Book and Pillage Laud appeared in 1999. Search Procedures (1996) was a finalist for the Governor General's Literary Award; Furious (1988) was awarded the Governor General's Literary Award for Poetry; and WSW (1989) received a QSPELL poetry prize. Little theatres (2005) won the A.M. Klein Prize for Poetry, was nominated for the Governor General's Literary Award for English-language Poetry and is also shortlisted for the Pat Lowther Memorial Award.
Judges' Citation
"'Poetry is doing nothing but using losing and refusing and pleasing and betraying and caressing nouns' said Gertrude Stein. Each of these new poems of Moure's is a 'little theatre' of noun, seizing it in the fact of its quotidian, and meeting it as fresh, necessary and incredulous utterance. If we say 'water', she shows in her limpid cadence, we must reinvent it, not excluding oil spills, endangered aquatic birds, millwheels and all the other economies that inflect perception. Here, poetry is urgently and simply our water, the other language that brings us, with Moure's characteristically rigorous sensuality, a thinking adequate to the damages, and the delights, of the world. This book includes a useful dictionary that shows other words for electrical monopoly, spontaneous whoops in song, and thanking."
Erin Moure reads Homage to the Mineral of the Onion (I)
Homage to the Mineral of the Onion (I), by Erin Moure
Homage to the Mineral of the Onion (I)

In the onion, there's
something of fire. That fire known as
Fog. The onion is the way
fog has of entering the earth.

Into the soil. Through the green leaves of the onion.

Look how its leaves extend up into the air.
Look how, once cut,
an onion's leaf has air inside it.

Air is the generosity of fog.
With fog, there is generosity on earth.
These two thoughts are identical.

They are two thoughts that sustain the earth.
In these bellicose days that promise wars,
look how the onion helps fog
to sustain the earth.

From Little theatres
Copyright © 2005 Erin Moure
More about Erin Moure
The following are links to other Web sites with information about poet Erin Moure. (Note: All links to external Web sites open in a new browser window.)
Have you read Little theatres by Erin Moure? Add your comments to this page and let us know what you think.
Note: Summaries are taken from promotional materials supplied by the publisher, unless otherwise noted.
Photo credit: Terence Byrnes