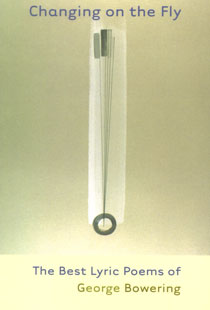 Book: Changing on the Fly
Poet: George Bowering
Publisher: Polestar Book Publishers/Raincoast Books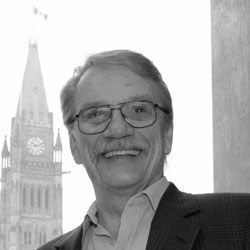 Biography
In recognition of his extraordinary accomplishments, George Bowering was named Canada's First Poet Laureate in 2000. The much lauded Officer of the Order of Canada has won the Governor General's Award for Poetry in 1969, the Governor General's Award for Fiction in 1980, the Nichol Chapbook Award for Poetry in both 1991 and 1992, the Canadian Author's Association Award for Poetry in 1993 and was awarded an Honorary Degree (D. Litt.) from the University of British Columbia in 1994. A list of his collections of poems include: Sticks and Stones (1963), Points on the Grid (1963), The Man in Yellow Boots (1964), The Silver Wire (1966), Rocky Mountain Foot (1969), The Gangs of Kosmos (1969), Touch: Selected Poems (1960-1969), In the Flesh (1974), The Catch (1976), Poem and Other Baseballs (1976), The Concrete Island (1977), Another Mouth (1979), Particular Accidents (1981), West Window (1982), Smoking Mirror (1982), Seventy-One Poems for People (1985), Delayed Mercy and Other Poems (1986), Sticks and Stones (1989), Urban Snow (1992), George Bowering Selected Poems 1961-1992 (1993), Blonds on Bikes (1997), Poems et Autre Baseballs – Collaboration (1999), Vermeer's Light, Poems 1996-2006 (2006).
Born in Penticton British Columbia in 1935, George Bowering has had a multi-faceted career as novelist, editor, radio personality, professor and poet. After serving as an aerial photographer in the RCAF, he attended the University of British Columbia where he earned a BA in History and an MA in English, and took part in establishing the post modernist, avant-garde movement in BC by co-founding and co-editing TISH. Bowering has taught at the University of Calgary, the University of Western Ontario and now teaches at Simon Fraser University in Vancouver. He is one of Canada's most prolific writers of poetry, short stories and novels with more than 40 titles to his credit. Bowering won the 1969 Governor General's Literary Award in the poetry category for his works The Gangs of Cosmos and Rocky Mountain Foot. He also won the Governor General's Award for Fiction in 1980 for his novel Burning Water.
Judges' Citation
"In George Bowering's flight changes, lyric takes to the air – with spareness, resiliency and irrepressible humour. This collection from 40 years of playful seriousness extends lyric form in a marvellous variety of ways, condensing a remarkable agility, an exuberance in the singular voice and in feelings' construct and presentation. It is irreverent, yet leaves us in the hush of reverence. Bowering's voice is instantly recognisable throughout, in all its variants, its pulling of high into 'low' culture, its borrowings from older poetries we all know. Bowering is the poet of delight in earthly matters, of bemusement at the self. His lyrics turn out the streetlights (who needs them!) and light up the stars. And his lines try to understand what it is to exist, in the face of fears we all have, 'fears that I may cease to be.'"
George Bowering reads Pale Blue Cover
Pale Blue Cover, by George Bowering
Pale Blue Cover

In the middle of the night Matt would fly to Vancouver so
he could take a walk on the sea wall the next day, then
go home.
Wouldn't tell anyone, no telephone call, just run a scene
through his peculiar Ontario head, no snow on that
beach.
No one can imagine Matt teaching religion at McMaster,
Matt eyeing math in a Bay Street shop window.
Here's the man expecting every book to be break-
through to best seller Toronto, Spanish doctors
couldn't even do it.
English patients could do it, Spanish doctors, get out of
town. Spanish girls, you can forget it.
Matt was planning to write a hundred novels, line them up
like matched jewelry, strike a shovel into the heart of
bony Canada.
Mix a metaphor, wrestle a fish in a northern river, propel
prose like nobody's business, business had nothing to
do with it.
In the middle of the day Cohen was a wry anglo saxon
typing on a rocky farm, two thousand words before
supper.
Remain wry, people like me catch you lost in thought down
there at the other end of the table, face turned to the
corner with imagination in it.
We remind ourselves of this undreamable sephardic rock
agriculturalist, shovel bouncing off some kind of
precambrian anapest.
He really thought he could get across Canada, get over the
twentieth century, pick the whole country up and turn
it over.
No one will ever know what he was thinking on the red-eye,
patriot satyr grin on his lip.

From Changing on the Fly, by George Bowering
Copyright © 2004 by George Bowering
More about George Bowering
The following are links to other Web sites with information about poet George Bowering. (Note: All links to external Web sites open in a new browser window.)
Have you read Changing on the Fly by George Bowering? Add your comments to this page and let us know what you think.
Photo credit: Janet Brooks