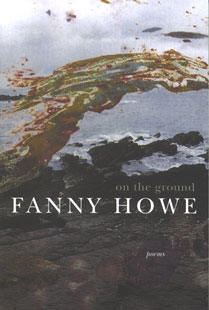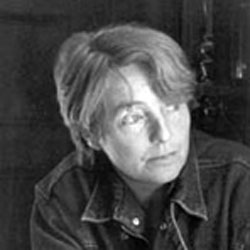 Biography
Fanny Howe is the author of over twenty books of poetry and prose including Gone: Poems (2003), Selected Poems (2000), Forged (1999), One Crossed Out (1997), O'Clock (1995), The End (1992), For Erato; The Meaning of Life (1984), Alsace-Lorraine (1982) and Poem from a Single Pallet (1980). The recipient of the 2002 Lenore Marshall Poetry Prize for Selected Poems (2000), she has also won awards from the National Endowment for the Arts, the National Poetry Foundation, the California Council for the Arts and the Village Voice, as well as fellowships from the Bunting Institute and the MacArthur Colony. Howe was shortlisted for the Griffin Poetry Prize in 2001.
Born in Buffalo New York in 1940, Howe is a prolific poet, novelist and essayist who has won multiple awards for her collections of poetry and novels for young adults. A creative writing teacher of note, Howe has lectured at Tufts University, Emerson College, Columbia University, Yale University and the Massachusetts Institute of Technology. She is Professor Emerita of Writing and Literature at the University of California, San Diego.
Judges' Citation
"These are startling, beautiful, challenging poems that work within the troubled and chafed borders and interfacings between spirit and material world to ask that basic question: how can we live? How can we be ordinary with each other (so necessary) in these times of war and political terror that try to keep our lives in a 'state of exception' that seems to justify cruelty? Howe's poems are firmly on the ground but not grounded; they use lyric energy and phrasings in new ways that are deft, open, and have synaptic intelligence. Here, poetic transport is not transcendent, not consolation; it is earth-bound, immediate and enamoured. This is a book that teaches us to be ecstatic about poetry; in it we hear the frayed and difficult passages of our thought and place as humans, our restive worry and our longing for peaceful cohabitation with all others. On the Ground is an essential book for our times."
Fanny Howe reads from Kneeling Bus
From Kneeling Bus, by Fanny Howe
From Kneeling Bus

Hello air

Infinity is colonizing my mind

It's as if a cornerstone is familiar
but not the building

It this illness, senility, amnesia, fatigue, wine,
medication or history

diminishing my memory

to the length of a bed?

Friends are often abandoned for passion
That Person walking the path I cut for him

from the elevator
to the hotel bar

His escape occurred
while no one was there to care.

…

If daily bread extends its quota
of air; and if heaven can't manage what earth can

If you are 55 degrees below zero and dying
there were no better times left!

When telephone wires are words trying
to be one sound -and the gray flannel sky

blurs on millions while they look forward
and no sense dares return empty

each container creates its fear of portion.

See the icy shape of a cowboy on a mirror?
Animals turned into legends – The Tacky Little Lion –

and silver bars
across the doors into the Church of Einstein?

Hail, curved time: 'This labor camp is my cathedral.'

…

I couldn't tell the end
from the beginning
or one side from another
(west on the left?)

But I did seek structure
in a minute.

The models got smaller
the closer they were studied
too close I wiped my eyes
and cried.

This created
a problem for separating
the last impression from
the most ancient.

Two shoes on a curtain
Shadows thicker than a
wax-white stripe.
A floating paper bag
colored rubber
Drop-shaped leaves
and silver lifted
invisible thinking
about terrible nothing:
all in one blow.

If I look up
I see the end bends down
into today's eternity.

I am no one.
I know hell and have hope.

Let me travel the M11 down to Greystones
with my brother

as happy a soul as he is
and see the silver spears

of towers symbolically
built into the deep dream state.

Let me who? Who will let me?
Whom am I addressing?

Time covered sky
over multiple eyes

A winter city's

ice is an oyster
inside a pearl.

A slow bus,
a frightened terrorist, a girl –

My church is this machine rolling
the people along and sometimes

my church is a public latrine, sometimes
I drop on my knees and fall

across a chair like a coat in an empty room

Sometimes I whisper help
to interrupt my wheeling brain.

I never learned how to live with a stranger
or an underground train.

Sometimes my church is a Franciscan chapel
near Penn Station. Beads rattle.

People sleep, mutter and curse.

When I leave this bus

a thanks to the driver is to cross and live

From On the Ground, by Fanny Howe
Copyright © 2004 by Fanny Howe
More about Fanny Howe
The following are links to other Web sites with information about poet Fanny Howe. (Note: All links to external Web sites open in a new browser window.)
Have you read On the Ground by Fanny Howe? Add your comments to this page and let us know what you think.