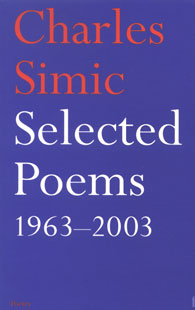 Biography
Pulitzer Prize-winning poet Charles Simic has published five books of essays, a memoir, numerous translations and sixteen collections of poetry. Born in 1938 in Belgrade Yugoslavia, Simic immigrated to the United States in 1952 and saw his first poems published in 1959. In 1961 he was drafted into the US Army and in 1966 earned his Bachelor's degree at New York University, publishing his first full-length collection of poems What the Grass Says in 1967. Since then he has published more than 60 books in the United States including My Noiseless Entourage (2005), Jackstraws (Notable Book of the Year in the New York Times 1999), Walking the Black Cat (finalist for the National Book Award in Poetry 1996), A Wedding in Hell (1994), Hotel Insomnia (1992), The World Doesn't End: Prose Poems (for which he received the Pulitzer for Poetry in 1990), Selected Poems: 1963 – 1983 (1990), and Unending Blues (1986). He has also published many translations of French, Serbian, Croatian and Macedonian and Slovenian poetry and has twice won the Pen International Translation Award.
Amongst his many accomplishments and accolades, Simic was the Guest Editor of The Best American Poetry 1992, was elected a Chancellor of the Academy of American Poets in 2000 and has received fellowships from the Guggenheim Foundation, the MacArthur Foundation and the National Endowment for the Arts. Simic was selected by the Griffin trustees as a judge for the 2007 Griffin Poetry Prize.
Simic is the 2007 recipient of the Wallace Stevens Award from the Academy of American Poets. The $100,000 (US) prize recognizes outstanding and proven mastery in the art of poetry. On the same day in August, 2007 that Simic received this award, the US Library of Congress announced that he had been chosen as the new US Poet Laureate.
Since 1973, Simic has lived in New Hampshire where he is Professor of English at the University of New Hampshire.
Judges' Citation
"Simic is something of a magician, a conjuror. Out of nothing it seems, out of thin air, the poems appear before our eyes. One apparently casual observation leads to another, and suddenly, exponentially, we are spellbound. It is a trick many have tried to imitate but few have achieved. At the centre of Simic's art is a disarming, deadpan precision, which should never be mistaken for simplicity. Everything appears pared back to the solid and the essential, and it is this economy of vocabulary and clarity of diction which have made his poetry so portable and so influential wherever it is published. Simic is one of the few poets of our time to achieve both critical and popular acclaim; he is genuinely quotable, and it is entirely possible that some of his phrases and lines will lodge in the common memory. Without any hint of loftiness, then, and from a position which is entirely his own, Simic manages to speak to the many and not just the few."
Charles Simic reads Shelley
Shelley, by Charles Simic
Shelley

Poet of the dead leaves driven like ghosts,
Driven like pestilence-stricken multitudes,
I read you first
One rainy evening in New York City,

In my atrocious Slavic accent,
Saying the mellifluous verses
From a battered, much-stained volume
I had bought earlier that day
In a second-hand bookstore on Fourth Avenue
Run by an initiate of the occult masters.

The little money I had being almost spent,
I walked the streets my nose in the book.
I sat in a dingy coffee shop
With last summer's dead flies on the table.
The owner was an ex-sailor
Who had grown a huge hump on his back
While watching the rain, the empty street.
He was glad to have me sit and read.
He'd refill my cup with a liquid dark as river Styx.

Shelley spoke of a mad, blind, dying king;
Of rulers who neither see, nor feel, nor know;
Of graves from which a glorious Phantom may
Burst to illumine our tempestuous day.

I too felt like a glorious phantom
Going to have my dinner
In a Chinese restaurant I knew so well.
It had a three-fingered waiter
Who'd bring my soup and rice each night
Without ever saying a word.

I never saw anyone else there.
The kitchen was separated by a curtain
Of glass beads which clicked faintly
Whenever the front door opened.
The front door opened that evening
To admit a pale little girl with glasses.

The poet spoke of the everlasting universe
Of things – of gleams of a remoter world
Which visit the soul in sleep –
Of a desert peopled by storms alone –

The streets were strewn with broken umbrellas
Which looked like funereal kites
This little Chinese girl might have made.
The bars on MacDougal Street were emptying.
There had been a fist fight.
A man leaned against a lamp post arms extended as if
crucified,
The rain washing the blood off his face.

In a dimly lit side street,
Where the sidewalk shone like a ballroom mirror
At closing time –
A well-dressed man without any shoes
Asked me for money.
His eyes shone, he looked triumphant
Like a fencing master
Who had just struck a mortal blow.

How strange it all was – The world's raffle
That dark October night –
The yellowed volume of poetry
With its Splendors and Glooms
Which I studied by the light of storefronts:
Drugstores and barbershops,
Afraid of my small windowless room
Cold as a tomb of an infant emperor.

From Selected Poems 1963-2003, by Charles Simic
Copyright © Charles Simic, 2004
More about Charles Simic
The following are links to other Web sites with information about poet Charles Simic. (Note: All links to external Web sites open in a new browser window.)
Have you read Selected Poems 1963-2003 by Charles Simic? Add your comments to this page and let us know what you think.