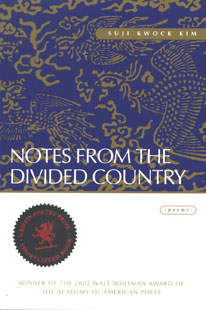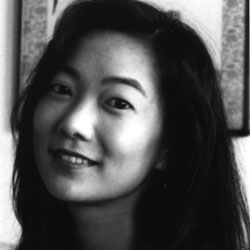 Biography
Suji Kwock Kim won the 2002 Walt Whitman Award from the Academy of American Poets for her first book of poetry, Notes from the Divided Country, selected by Yusef Komunyakaa. Her poems have appeared in The Nation, The New Republic, Poetry, Yale Review, Harvard Review, Threepenny Review, DoubleTake, Ploughshares, Asian-American Poetry: The Next Generation and other journals and anthologies. 'Private Property,' a multimedia play Kim co-wrote, was produced at the Edinburgh Festival Fringe and was featured on BBC-TV. She is the recipient of fellowships from the National Endowment for the Arts, and the Fine Arts Work Center in Provincetown: The Nation/ 'Discovery' Award, and grants from the New York Foundation for the Arts, California Arts Council, Washington State Artist Trust, Korea Foundation and Blakemore Foundation for Asian Studies. In 2006, she was the recipient of a Whiting Writer's Award.
Kim earned her B.A. at Yale University; a Master of Fine Arts at the Iowa Writers' Workshop; attended Seoul National University, where she was a Fulbright Scholar; and Stanford University, where she was a Stegner Fellow. She divides her time between San Francisco and New York. She currently teaches at both Drew University and Sarah Lawrence College. Her poems are being set to music by the Mayako Kubo and the Tokyo Philharmonic Chorus, with premieres in Berlin and Tokyo in 2007.
Judges' Citation
"Suji Kwock Kim's title Notes from the Divided Country refers not only to the Koreas North and South and to all the Americas, but also to the countries of the mind. Travelling between past and present, Kim's powerful fictive imagination creates almost unbearably realistic enactments of war-zones once inhabited by her parents, grandparents, and even her great-grandparents. If 'death is no remedy for having been born', as she says in 'The Tree of Knowledge', then perhaps poetry is: poetry as expiation, history, memory treasure trove. In highly sophisticated verse, with lines long and lean or short and subtle, an exorcism seems to take place through the precision and music of her language. In poems about the couple next door in San Francisco, or the poet on the road to Skye in Scotland, or in the streets of Seoul on the Buddha's birthday, Suji Kwock Kim celebrates being alive and well in the complexities of the present moment."
Suji Kwock Kim reads Borderlands
Borderlands, by Suji Kwock Kim
Borderlands

Crush my eyes, bitter grapes:
wring out the wine of seeing.

We tried to escape across the frozen Yalu, to Ch'ientao or Harbin.
I saw the Japanese soldiers shoot:

I saw men and women from our village blown to hieroglyphs of viscera,
engraving nothing.

River of never.
River the opposite of Lethe,

dividing those who lived from those who were killed:
why did I survive?

I wondered at each body with its separate skin, its separate suffering.
My childhood friend lay on the boot-blackened ice:

I touched his face with disbelief,
I tried to hold his hand but he snatched it away, as if he were ashamed of dying,

eye grown large with everything it saw, everyone who disappeared:
pupil of suffering.

Lonely O, blank of an eye
rolled back into its socket,

I was afraid to see you:
last thoughts, last dreams crawling through his skull like worms.

From Notes from the Divided Country, by Suji Kwock Kim
Copyright © 2003
More about Suji Kwock Kim
The following are links to other Web sites with information about poet Suji Kwock Kim. (Note: All links to external Web sites open in a new browser window.)
Have you read Notes from the Divided Country by Suji Kwock Kim? Add your comments to this page and let us know what you think.
Photo credit: Jill D'Alessandro