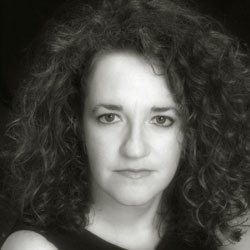 Biography
Leslie Greentree's first book of poetry, guys named Bill (Frontenac House, 2002) was followed a year later by go-go dancing for Elvis (Frontenac House, 2003). In 2004, she won the CBC Poetry Face-off for Calgary, and competed in the National Face-off. 'Fargo's, Whyte Avenue', a poem from go-go dancing for Elvis, was selected for inclusion in Writing Alberta: An Anthology by Dr. Robert Stamp (U of C Press). In spring 2006, Greentree published her first volume of short stories, entitled A Minor Planet for You.
As well as working full-time at Red Deer Public Library, Greentree does freelance writing and acts as associate editor for a Central Alberta cultural tabloid called artichoke. She has read across Alberta, as well as in Saskatoon, Humboldt and Toronto, and is a featured reader at the Moose Jaw Festival of Words this summer, and the South Country Fair in Fort McLeod, Alberta. She has also been a featured reader at various other literary festivals, including the popular Word on the Street Festival in Calgary. Greentree is one of several organizers of Crossing Place: Red Deer Writers' Festival, a day-long literary festival featuring writers from Central Alberta and beyond. She serves on two cultural boards in Red Deer. Born in Grande Prairie, Alberta, Greentree earned a B.A. (English) and a B.Ed. at the University of Lethbridge.
See also: Griffin Trustee Robin Robertson, Griffin Poetry Prize 2004 shortlisted poets Leslie Greentree and David Kirby, and Griffin Poetry Prize 2003 shortlisted poet Gerald Stern were joined by the 2005 Canadian and International winners Roo Borson and Charles Simic on a triumphal tour to the Dublin Writers Festival in June, 2005. Leslie, David and Roo kept a lively blog of the trip, which you can read here.
Judges' Citation
"Leslie Greentree is a conversational poet whose artful talk is not afraid to engage any subject head-on. Her unpretentious, sometimes comic, lower-case poems have an irresistible charm. They pull us into the funk and drama of her everyday experience and, further, into the center of her interior life."
Leslie Greentree reads "if I was a gate"
"if I was a gate", by Leslie Greentree
"if I was a gate"

I thought I loved the cordless screwdriver
but this is something else altogether
I hold my shiny new electric drill
listen to its high-pitched whine
it is fairly leaping in my hand
tingling through my arm my shoulder
waking all my bones

I am a surgeon
drilling tidy holes
precise and perfect
I blow off the dust
step back to admire my handiwork
brandish my shrieking drill
step in again

you have to make small notches first
you see, in the cupboard doors
I could pull out
my old battered hammer
use brute force
I prefer to take the bit in hand
push it gently into the soft wood
make the small circular motions
that create the slot it
will slide into naturally
otherwise it jumps around
eager but awkward
until you guide it home

there is that small moment as the drill bit
pauses seeks slips in
a second's resistance before it sinks
I feel the wood yield under my
steady singing pressure
the bit bores deeper and deeper
until with a start I feel it
I am through

now this is power
like when a lover leaves and
your fear turns into the sudden
realization that you can do it for yourself
just as well or better
and you don't have to listen to the same
Monty Python story
over and over and over
through the course of a long
beery evening either

Darryl showed me what to do in Totem
it felt heavy and alien in my hands
I wanted to throw myself at his feet
beg him to come home with me
drill my first hole

now I'm laughing aloud
fiercely proud of the naked apertures
racing across my kitchen
like a banner
now I'm looking around my house
wondering what else I can plunge this into

I didn't put music on
wanting nothing to interfere with the
insouciant shrieking seduction of my electric drill
the song fragment that loops through my mind:
if I was a gate I'd be swinging

From go-go dancing for Elvis, by Leslie Greentree
Copyright © 2003
More about Leslie Greentree
The following are links to other Web sites with information about poet Di Brandt. (Note: All links to external Web sites open in a new browser window.)
Have you read go-go dancing for Elvis by Leslie Greentree? Add your comments to this page and let us know what you think.
Photo credit: Sandy Weatherall, Imagine That Photographics