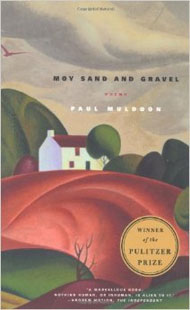 Biography
Paul Muldoon was born in 1951 in County Armagh, Northern Ireland. He received his B.A. from Queen?s University in Belfast and was a radio and television producer with the BBC in Northern Ireland for 13 years. Since 1987, he has lived in the United States, where he is now Howard G.B. Clark Professor of the Humanities and Director of the Creative Writing Program at Princeton University. In 1999 he was elected Professor of Poetry at Oxford University. Muldoon?s Griffin-shortlisted book of poetry, Moy sand and gravel, won the Pulitzer Prize for Poetry in April, 2003. He is also the author of eight previous volumes of poetry, including New Weather (1973), Mules (1977), Why Brownlee Left (1980), Quoof (1983), Meeting the British (1987), Madoc: A Mystery (1990), The Annals of Chile (1984), and Hay (1998). Poems 1968-1998, published by FSG in 2001, is a collection of his eight volumes. A Fellow of the Royal Society of Literature and the American Academy of Arts and Sciences, Muldoon received an American Academy of Arts and Letters award in literature in 1996. Other recent awards include the 1994 T.S. Eliot Prize and the 1997 Irish Times Literature Prize for Poetry. Muldoon?s most recent collection, Horse Latitudes (2006) was shortlisted for the T.S. Eliot Prize. In 2007, Muldoon became poetry editor of the New Yorker.
Judges' Citation
"Reading Paul Muldoon's poetry is like looking through a kaleidoscope while he jiggles your elbow. The complex rhyme-schemes, the repeated words and phrases, the refrains, the wonderful patterning unexpectedly dislocate this poet?s deep sense of place and shuttle the reader between order and chaos and back again. He reminds us that rhyme used with great resource does not restrain: rather, it is aleatory; it beckons the random and the risky. It is indeed a rich paradox that this most à la mode of poets takes us right back, again and again, to poetry?s ancient beginnings. As well as leading us a merry dance, he tells stories and sings cradlesongs and makes up nursery rhymes and riddles and says prayers. His elegies and love poems are among the finest of our times. With Mozartian grace and daring he renovates the traditional forms ? sestina, sonnet, haiku. In modernizing the time-honoured he keeps surprising himself and his readers."
Paul Muldoon reads The Loaf
The Loaf, by Paul Muldoon
The Loaf

When I put my finger to the hole they've cut for a dimmer
switch
in a wall of plaster stiffened with horsehair
it seems I've scratched a two-hundred-year-old itch

with a pink and a pink and pinkie-pick.

When I put my ear to the hole I'm suddenly aware
of spades and shovels turning up the gain
all the way from Raritan to the Delaware

with a clink and a clink and clinky-click.

When I put my nose to the hole I smell the flood-plain
of the canal after a hurricane
and the spots of green grass where thousands of Irish have
lain

with a stink and a stink and a stinky-stick.

When I put my eye to the hole I see one holding horse
dung to the rain
in the hope, indeed, indeed,
of washing out a few whole ears of grain

with a wink and a wink and a winkie-wick.

And when I do at last succeed
in putting my mouth to the horsehair-fringed niche
I can taste the small loaf of bread he baked from that
whole seed

with a link and a link and a linky-lick.

From Moy sand and gravel, by Paul Muldoon
Copyright © Paul Muldoon, 2002
More about Paul Muldoon
The following are links to other Web sites with information about poet Paul Muldoon. (Note: All links to external Web sites open in a new browser window.)
Have you read Moy sand and gravel by Paul Muldoon? Add your comments to this page and let us know what you think.
Photo credit: Jerry Bauer