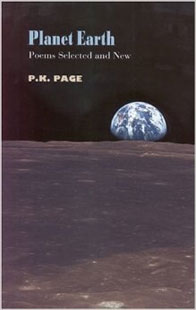 Biography
P.K. Page has written some of the best poems published in Canada over the last five decades. In addition to winning the Governor General's Award for Poetry in 1957, she was appointed a Companion of the Order of Canada in 1999. She is the author of more than a dozen books, including ten volumes of poetry, a novel, selected short stories, three books for children and a memoir, entitled Brazilian Journal, based on her extended stay in Brazil with her late husband Arthur Irwin, who served as the Canadian Ambassador there from 1957 -1959. A two-volume edition of Page's collected poems, The Hidden Room (P Q L), was published in 1997. Planet Earth was recently ranked #9 on the Amazon.ca list of 50 Canadian Essential Books of all time. Page's 'autobiography in verse', Hand Luggage, was published in March, 2006, followed by a short fiction piece entitled Up on the Roof, released in 2007.
Born in England and brought up on the Canadian prairies, Page resided in Victoria, British Columbia.
P.K. Page died in January, 2010. Many heartfelt tributes to her and her extensive body of work have been published, including this retrospective from CBC Arts.
P.K. Page's final collection of poems, Coal and Roses, was shortlisted for the 2010 Canadian Griffin Poetry Prize.
Judges' Citation
Elegant, rigorous, fresh, P.K. Page's work sings with a voice of independent character and maenad conjecture. It is a creature that lives on its own terms and terrain. It is startling, authoritative, and anti-sentimental, able to bear cool as well as passionate gazing at our own species. Her poems are always thinking – each line is thinking, while its six senses remain impeccably alert. Her poems live by wit, wisdom, sass, suspense and a muscular lissome synapse and diction. They are daring in scope, meticulous in accomplishment, and boldly moral – with a lovely flavour of amoral verve! We fall under the charm of her reasoning, of her fecund, fastidious imagination, of her many musics, and of her necessariness to us, her essentialness.
P.K. Page reads Planet Earth
Planet Earth, by P.K. Page
Planet Earth

It has to be spread out, the skin of this planet,
has to be ironed, the sea in its whiteness;
and the hands keep on moving,
smoothing the holy surfaces.

'In Praise of Ironing', PABLO NERUDA

It has to be loved the way a laundress loves her linens,
the way she moves her hands caressing the fine muslins
knowing their warp and woof,
like a lover coaxing, or a mother praising.
It has to be loved as if it were embroidered
with flowers and birds and two joined hearts upon it.
It has to be stretched and stroked.
It has to be celebrated.
O this great beloved world and all the creatures in it.
It has to be spread out, the skin of this planet.

The trees must be washed, and the grasses and mosses.
They have to be polished as if made of green brass.
The rivers and little streams with their hidden cresses
and pale-coloured pebbles
and their fool's gold
must be washed and starched or shined into brightness,
the sheets of lake water
smoothed with the hand
and the foam of the oceans pressed into neatness.
It has to be ironed, the sea in its whiteness;

and pleated and goffered, the flower-blue sea
the protean, wine-dark, grey, green, sea
with its metres of satin and bolts of brocade.
And sky – such an O! overhead – night and day
must be burnished and rubbed
by hands that are loving
so the blue blazons forth
and the stars keep on shining
within and above
and the hands keep on moving.

It has to be made bright, the skin of this planet
till it shines in the sun like gold leaf.
Archangels then will attend to its metals
and polish the rods of its rain.
Seraphim will stop singing hosannas
to shower it with blessings and blisses and praises
and, newly in love,
we must draw it and paint it
our pencils and brushes and loving caresses
smoothing the holy surfaces.

From Planet Earth: Poems Selected and New, by P.K. Page
Copyright © P.K. Page, 2002
More about P.K. Page
The following are links to other Web sites with information about poet P.K.Page. (Note: All links to external Web sites open in a new browser window.)
Have you read Planet Earth: Poems Selected and New by P.K. Page? Add your comments to this page and let us know what you think.
Photo credit: Barbara Pedrick