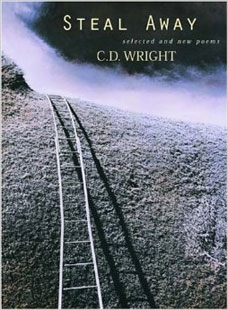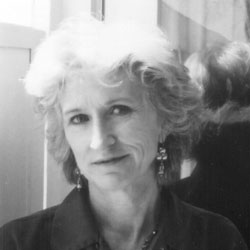 Biography
C.D. Wright has published nine collections of poetry, including two booklength poems, Deepstep Come Shining and Just Whistle. In 1994 she was named State Poet of Rhode Island. On a fellowship from the Lila Wallace-Reader's Digest Foundation, she curated 'a walk-in book of Arkansas,' an exhibition which toured throughout her native state. Wright is currently completing a work with photographer Deborah Luster entitled One Big Self: Prisoners of Louisiana. The project won the Lange-Taylor Prize from the Center for Documentary Studies at Duke University. She is a recipient of prestigious fellowships from the MacArthur and Guggenheim Foundations and National Endowment for the Arts, and awards from the Foundation for Contemporary Performance Arts and the Lannan Foundation. Wright is a professor of English at Brown University. She was born and raised in the Ozark Mountains of Arkansas.
Wright's 2008 collection, Rising, Falling, Hovering, won the 2009 International Griffin Poetry Prize.
Judges' Citation
"C.D. Wright's work is plain gorgeous; it is clean-wrought, rich, rambunctious, and pure-thrown, like a perfect game. This is the generous art of a graceful outlaw troubadour, singing to us as if from within ourselves. The poems seem written not with ink or pencil-lead but with life-stuff itself as their matter, alphabet, and orthography. They are dense with a sense of substance and absence, love and grief and humor and horror. And how unusual it is, this mix of classes, races, sensualities, economies and vocabularies – as if a people were writing its (our) true poetry. Here is a radical home voice, an original vision, luminously peculiar/precise; here is a new American music, with a green, wisdom-struck clarity and mercy."
C.D. Wright reads Key Episodes From An Earthly Life
Key Episodes From An Earthly Life, by C.D. Wright
Key Episodes From An Earthly Life

…

As surely as there are crumbs on the lips
of the blind I came for a reason

I remember when the fields were no taller
than a pencil do you remember that

I told him I've got socks older than her
but he would not listen

Those dark Arkansas roads that is the sound
I am after the choiring of crickets

Around this time of year especially evening
I love everything I sold enough eggs

To buy a new dress I watched him drink the juice
of our beets And render the light liquid

I came to talk you into physical splendor
I do not wish to speak to your machine

From Steal Away: selected and new poems, by C.D. Wright
Copyright © C.D. Wright, 2002
More about C.D. Wright
The following are links to other Web sites with information about poet C.D. Wright. (Note: All links to external Web sites open in a new browser window.)
Have you read Steal Away: selected and new poems by C.D. Wright? Add your comments to this page and let us know what you think.
Photo credit: Forrest Gander