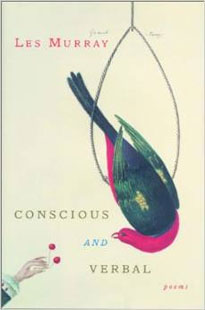 Book: Conscious and Verbal
Poet: Les Murray
Publisher: Farrar, Straus & Giroux, Duffy & Snellgrove and Carcanet, distributed in Canada by Douglas & McIntyre Ltd.
Biography
Australia-born Les Murray is the author of 23 titles published in Australia and several in the U.S. and England, including The Vernacular Republic (1982), The Daylight Moon (1988), The Rabbiter's Bounty: Collected Poems (1991), The Boys Who Stole the Funeral Sequence (1991), Dog Fox Field (1992), Translations from the Natural World (1992), Subhuman Redneck Poems (1997), Fredy Neptune: A Novel in Verse (1999), Learning Human (2000) – Griffin Poetry Prize Shortlisted Book in 2001 – and Conscious and Verbal (2001), voted a Notable Book for 2001 by the American Library Association. Selected prose includes The Quality of Sprawl and A Working Forest. His latest book, Bi-Plane Houses, was published in the spring of 2006.
He has won the T.S. Eliot Prize and has been honoured by the Australian government with the Medal of the Order of Australia for his services to literature. He has been elected an Honorary Fellow by the Australian Academy of the Humanities and was awarded the prestigious Queen's Gold Medal for Poetry in 1998. In addition, he has won numerous National Book Council Awards in Australia, the Australian National Poetry Award, and the Australian Literary Society Gold Medal (1987), among others. He lives on the coast of New South Wales.
The Griffin Trust For Excellence In Poetry is saddened to learn of Les Murray's passing on April 29, 2019. Among the close to 30 books he published over 40 years, we were honoured to have two of his works grace the 2001 and 2002 Griffin Poetry Prize shortlists. We offer our deepest sympathies to his loved ones.
Judges' Citation
"Conscious and Verbal, the title of the latest book – the eighth in little over a decade – by Les Murray, is taken from a hospital press release, informing Australians that their great national poet, after three weeks at death's door with sudden catastrophic liver failure, was on the mend. One can hear the deprecating giggle, the understatement, in the phrase once Murray adopted it as a title. It is a typically rich and varied performance. What Murray can do is to write interestingly and characteristically about anything and everything; his imagination is fired by any sort of subject: city and country, staying at home or travelling abroad, memory and history, the present or the future, satire or hymn, culture or nature. Here, as well as the poem of his survival – called 'travels with John Hunter' ('I was sped down a road/ of treetops and fishing-rod lightpoles/ towards the three persons of God/ and the three persons of John Hunter/ Hospital. Who said We might lose this one.' – calm and witty and inventive, there are poems in Conscious and Verbal on the joys of libraries and swimming pools, on poetry and oysters, and Harley Davidsons. If you had to choose a poet to save your life, you could do worse than choose Les Murray."
Actor Stephen Jennings reads The Instrument, by Les Murray
The Instrument

Who reads poetry? Not our intellectuals;
they want to control it. Not lovers, not the combative,
not examinees. They too skim it for bouquets
and magic trump cards. Not poor schoolkids
furtively farting as they get immunized against it.

Poetry is read by the lovers of poetry
and heard by some more they coax to the café
or the district library for a bifocal reading.
Lovers of poetry may total a million people
on the whole planet. Fewer than the players of skat.

What gives them delight is a never-murderous skim
distilled, to verse mainly, and suspended in rapt
calm on the surface of paper. The rest of poetry
to which this was once integral still rules
the continents, as it always did. But on condition now

that its true name's never spoken: constructs, feral poetry,
the opposite but also the secret of the rational.
And who reads these? Ah, the lovers, the schoolkids,
debaters, generals, crime-lords, everybody reads them:
Porsche, lift-off, Gaia, Cool, patriarchy.

Among the feral stanzas are many that demand your flesh
to embody themselves. Only completed art
free of obedience to its time can pirouette you
through and athwart the larger poems you are in.
Being outside all poetry is an unreachable void.

Why write poetry? For the weird unemployment.
For the painless headaches, that must be tapped to strike
down along your writing arm at the accumulated moment.
For the adjustments after, aligning facets in a verb
before the trance leaves you. For working always beyond

your own intelligence. For not needing to rise
and betray the poor to do it. For a non-devouring fame.
Little in politics resembles it: perhaps
the Australian colonists' re-inventing of the snide
far-adopted secret ballot, in which deflation could hide

and, as a welfare bringer, shame the mass-grave Revolutions,
So axe-edged, so lictor-y.
Was that moral cowardice's one shining world victory?
Breathing in dream-rhythm when awake and far from bed
evinces the gift. Being tragic with a book on your head.

From Conscious and Verbal, by Les Murray
Copyright © 2001 by Les Murray
More about Les Murray
The following are links to other Web sites with information about poet Les Murray. (Note: All links to external Web sites open in a new browser window.)
Have you read Conscious and Verbal by Les Murray? Add your comments to this page and let us know what you think.