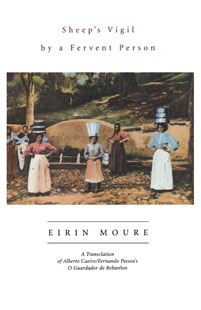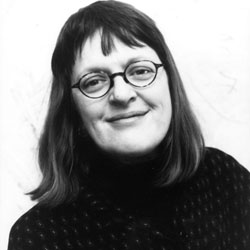 Biography
In addition to the Griffin Poetry Prize shortlist, Erin Moure's Sheep's Vigil by a Fervent Person was also shortlisted for the Toronto Book Award. Moure's earlier collection, A Frame of the Book, was co-published with House of Anansi Press Limited and Sun and Moon Press in the U.S. Anansi also published her Domestic Fuel, Furious and Search Procedures. Moure has won a Governor General's Award for Poetry, The Pat Lowther Memorial Award, a QSPELL and National Magazine Award for Poetry, and is currently nominated for another Governor General's Award for O Cidadán. Born in Calgary, Alberta, she attended the University of Calgary and University of British Columbia. Moure works as a translator and editor in Montreal.
Erin Moure returned as one of the judges of the 2005 Griffin Poetry Prize. Her collection, Little Theatres, won the A.M. Klein Prize for Poetry and was also nominated for the 2005 Governor General's Award for English-language poetry, as well as the 2006 Canadian Griffin Poetry Prize.
Judges' Citation
"Erin Moure's Sheep's Vigil by a Fervent Person is wry, clever, playful and lyrical. It is essentially, and beautifully, a love letter to that poet of fluid identities Fernando Pessoa. And it is also a love letter to Toronto, its vanished pastoral. Pessoa's Tejo river is Moure's Humber river. Her language, as his, is always doubled. She translates and recreates their shared sensations of nature's plain existence, its material absolution."
Erin Moure reads What, me, guard sheep?
What, me, guard sheep? by Erin Moure
What, me, guard sheep?

for Phil Hall

What, me, guard sheep?
I made that up; this is poetry.
It's my soul that's sheepish
Knows wind and sun
Grabs onto every Season and follows, looking.
Nature's peaceful today; it's empty
and it's my pal.
But it saddens me: what if sunset
turns my lights out too
when the parking lot goes cold
and nightfall's butterfly presses at my body,
glass.

But being sad isn't all bad,
it's fair enough and natural
What else is a soul for?
It's so sure it exists
when the hand cuts flowers, it doesn't cry out.

Like the racket of the mail truck
Coming around the curve of the avenue
My thoughts are happy.
Yet simply thinking this makes me glum,
For if they weren't happy, there'd be more variety:
Instead of being happy and glum
They'd be joyful and happy. What the heck.

Thinking bugs me, like walking in the rain
When the bus goes by, a huge wind splattering greasy water.

Ambitions and desires? My head's wet.
Being a poet isn't an ambition,
it's a version of being alone.

From Sheep's Vigil by a Fervent Person, by Eirin Moure
© 2001 Erin Mouré
More about Erin Moure
The following are links to other Web sites with information about poet Erin Moure. (Note: All links to external Web sites open in a new browser window.)
Have you read Sheep's Vigil by a Fervent Person by Erin Moure? Add your comments to this page and let us know what you think.