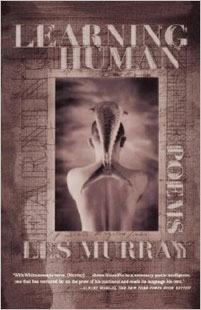 Book: Learning Human
Poet: Les Murray
Publisher: Farrar, Straus & Giroux, Carcanet (UK)
Biography
Australia-born Les Murray is the author of 23 titles published in Australia and several in the U.S. and England, including The Vernacular Republic (1982), The Daylight Moon (1988), The Rabbiter's Bounty: Collected Poems (1991), The Boys Who Stole the Funeral Sequence (1991), Dog Fox Field (1992), Translations from the Natural World (1992), Subhuman Redneck Poems (1997), Fredy Neptune: A Novel in Verse (1999), Learning Human (2000) and Conscious and Verbal (2001), voted a Notable Book for 2001 by the American Library Association and shortlisted for the 2002 Griffin Poetry Prize. Selected prose includes The Quality of Sprawl and A Working Forest. His latest book, Bi-Plane Houses, was published in the spring of 2006.
He has won the T.S. Eliot Prize and has been honoured by the Australian government with the Medal of the Order of Australia for his services to literature. He has been elected an Honorary Fellow by the Australian Academy of the Humanities and was awarded the prestigious Queen's Gold Medal for Poetry in 1998. In addition, he has won numerous National Book Council Awards in Australia, the Australian National Poetry Award, and the Australian Literary Society Gold Medal (1987), among others. He lives on the coast of New South Wales.
The Griffin Trust For Excellence In Poetry is saddened to learn of Les Murray's passing on April 29, 2019. Among the close to 30 books he published over 40 years, we were honoured to have two of his works grace the 2001 and 2002 Griffin Poetry Prize shortlists. We offer our deepest sympathies to his loved ones.
Judges' Citation
"A generous selection of poems, written over a period of thirty-five years by the preeminent Australian poet of the late twentieth century. Les Murray has a sure touch with the long leisurely poem, written in panavision and what he celebrates in 'The Quality of Sprawl!' 'Sprawl is doing your farming by aeroplane, roughly, /or driving a hitchhiker that extra hundred miles home.' Murray is also good on the Polaroid snapshot – of an oyster, for instance, with its 'bloodless sheep's eye.' Whether he's running a marathon or the hundred meters, Murray gives us beauty and bounty in equal measures."
Narrator Peter Reynolds reads An Absolutely Ordinary Rainbow, by Les Murray
An Absolutely Ordinary Rainbow

The word goes round Repins,
the murmur goes round Lorenzinis,
at Tattersalls, men look up from sheets of numbers,
the Stock Exchange scribblers forget the chalk in their hands
and men with bread in their pockets leave the Greek Club:
There's a fellow crying in Martin Place. They can't stop him.

The traffic in George Street is banked up for half a mile
and drained of motion. The crowds are edgy with talk
and more crowds come hurrying. Many run in the back streets
which minutes ago were busy main streets, pointing:
There's a fellow weeping down there. No one can stop him.

The man we surround, the man no one approaches
simply weeps, and does not cover it, weeps
not like a child, not like the wind, like a man
and does not declaim it, nor beat his breast, nor even
sob very loudly – yet the dignity of his weeping

holds us back from his space, the hollow he makes about him
in the midday light, in his pentagram of sorrow,
and uniforms back in the crowd who tried to seize him
stare out at him, and feel, with amazement, their minds
longing for tears as children for a rainbow.

Some will say, in the years to come, a halo
or force stood around him. There is no such thing.
Some will say they were shocked and would have stopped him
but they will not have been there. The fiercest manhood,
the toughest reserve, the slickest wit amongst us

trembles with silence, and burns with unexpected
judgements of peace. Some in the concourse scream
who thought themselves happy. Only the smallest children
and such as look out of Paradise come near him
and sit at his feet, with dogs and dusty pigeons.

Ridiculous, says a man near me, and stops
his mouth with his hands, as if it uttered vomit –
and I see a woman, shining, stretch her hand
and shake as she receives the gift of weeping:
as many as follow her also receive it

and many weep for sheer acceptance, and more
refuse to weep for fear of all acceptance,
but the weeping man, like the earth, requires nothing,
the man who seeps ignores us, and cries out
of his writhen face and ordinary body

not words, but grief, not messages, but sorrow,
hard as the earth, sheer, present as the sea –
and when he stops, he simply walks between us
mopping his face with the dignity of one
man who has wept, and now has finished weeping.

Evading believers, he hurries off down Pitt Street.

From Learning Human, by Les Murray
Copyright © 2000 by Les Murray
More about Les Murray
The following are links to other Web sites with information about poet Les Murray. (Note: All links to external Web sites open in a new browser window.)
Have you read Learning Human by Les Murray? Add your comments to this page and let us know what you think.