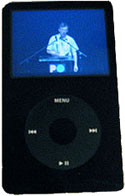 The Griffin Trust For Excellence In Poetry is pleased to provide poetry lovers with unique Griffin Poetry Prize content via the medium of podcasting. Podcasting enables you to download, listen to and view audio and video content on your computer or on any device that plays MP3 and MP4 files, such as iPods ? whenever you want. (We also continue to provide audio and video versions of many Griffin poetry readings through the See and Hear Poetry section of this Web site, and via our YouTube channel.)

If you are already familiar with podcasting, click here or on the XML/podcast icon to copy the Griffin address into your podcast software application. Enjoy the selection of poetry readings already available, and stay tuned for more updates!
If you are new to podcasting, follow these instructions to get up and running quickly:
Download and install podcast software.

Podcast software is designed to search out and retrieve the most current versions of the podcasts to which you choose to subscribe. You will need to download and install podcast software onto your computer. iTunes includes podcast feed reading features, and other podcast applications include Juice, iPodderX and Doppler.

Add the podcast feed address to your software.

After you have downloaded and installed your podcast software, copy the address of the Griffin Poetry Prize podcast into podcast software. Click here or on the XML/podcast icon to copy the Griffin address into your podcast software, or cut and paste the following:

Griffin Poetry Prize podcast feed in iTunes

Listen ? and stay tuned for new podcast content!

Note: When transferring Griffin video podcast content to your video iPod, look for it in the Videos/Video Podcasts section.

When new Griffin Poetry Prize audio content becomes available, your podcast software will automatically download it to your computer. Then you can listen to new Griffin poetry readings anytime you like using a media player that supports the mp3 file format, such as iPods, or iTunes on your computer.
Use of Griffin Poetry Prize audio and video content
All audio and video content provided on the Griffin Poetry Prize Web site is for personal use and enjoyment. Please contact us if you have inquiries regarding print, broadcast or other uses of this or other Griffin-related content.
Feedback
We would appreciate receiving your feedback on our podcast offerings. Please send your comments to info@griffinpoetryprize.com. Thank you!