Lifetime Recognition Award, 2006
On May 31st, 2006, the legendary poet Robin Blaser was honoured with The Griffin Trust for Excellence in Poetry's first Lifetime Recognition Award.
Trustee Robert Hass paid tribute to Robin Blaser and Scott Griffin presented him with his award.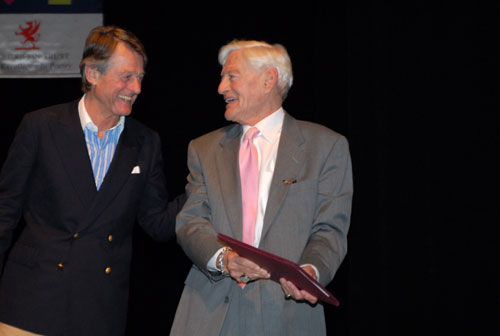 Here is Robin Blaser's biography … in his own words …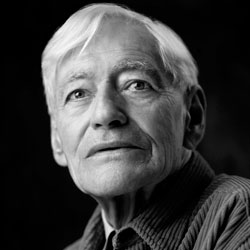 "Robin Blaser, born Denver, Colorado, 1925, grew up in Twin Falls, Idaho – I remember by name all the splendid teachers there in Latin, English, French, History and Biology. Arrived by bus in Berkeley, 1944, met by friends from there, took my bag to the Durant Hotel, then up to the Greek Theatre to see Euripides' Trojan Women. A fine first day, which got even better when Gene Wahl brought me Jack Spicer, who later brought Robert Duncan to me after finding him at an Anarchist meeting. I remember especially the presences of Josephine Miles, Ernst Kantarovicz, Arthur Brodeur, Linforth, Hannah Arendt, and Duncan's and my Greek tutor, Rosario Jimenez. I left to be a librarian at Harvard, 1955 – 1959, where Spicer joined me for a year. Went to Europe for 5 months and returned to San Francisco. I was a librarian at the California Historical Society, 1959 and at San Francisco State, 1961 – 1965. During the Poetry Conference in Berkeley in 1965, Robert Creeley and Charles Olson were folded into my heart and mind. In 1966, I was offered a position at the new Simon Fraser University in Burnaby, British Columbia, where I taught for 20 years, retiring as Full Professor in 1986. In 2005, I received the Order of Canada. I am grateful to Canada, having lived here in Vancouver for 40 years – Canadian citizenship granted July 21, 1972."
Learn more about Robin Blaser …
The Griffin Trust notes with great sadness that Robin Blaser died in May, 2009. Numerous moving tributes to him and his work have been published, and we have linked to some of them from here.
Photos by Tom Sandler (unless otherwise noted)