Lifetime Recognition Award, 2010
On behalf of the trustees of the Griffin Trust for Excellence in Poetry, I'm honored to welcome Adrienne Rich of the United States, recipient of our Lifetime Achievement Award for 2010.
In her essay "Not how to write poetry, but wherefore," Adrienne Rich tells us that "at twenty-two (poetry) called (her) out of a kind of sleepwalking. (She) knew, even then, that for (her) poetry wasn't enough as something to be appreciated, finely fingered: it could be a fierce, destabilizing force, a wave pulling you further out than you thought you wanted to be. You have to change your life," she wrote.
We honor a poet tonight who has not only changed her own life again and again with unflinching honesty and courage, but has opened a space for others, countless others, to change theirs: to experience the inward wrenching of the self, to interrogate and dismantle the myths and obsessions of gender, race, and class, to bear in mind continually poetry's transformative potential as a work of empathic imagination, and to recognize that poetry is not above or outside history, to speak of what has been muffled in code or in silence, the realities of blood and bread. The best of the foregoing language is hers, and what she claimed for her friend, the poet Muriel Rukeyser, could also be said of herself: that "her breadth of concern with the world (is) large, her issues and literary techniques many, and she refuse(s) to compartmentalize herself or her work, claiming her right to intellect and sexuality, poetry and science, Marxism and myth, activism and motherhood, theory and vision."
From her earliest book, whose very title, A Change of World, adumbrates all that was to come, through nineteen collections of poems that served as guideposts for the liberating movements of our time, her poetry has been part of a long conversation with the elders and with the future. She has long understood that future to be provisional and under construction. By her fierce attention to the world as it is and could be, in a poetics of political intimacy and lyric intensity, she opened a space for us, for our lives and work, and we wish to thank her tonight, for this and for her formidable contribution to the poetic art, for her poetry that announces: I am an instrument in the shape/ of a woman trying to translate pulsations/ into images/ for the relief of the body/ and the reconstruction of the mind.
Please join me in welcoming Adrienne Rich, recipient of the Lifetime Achievement Award for 2010, bestowed by the trustees of the Griffin Trust for Excellence in Poetry.
Carolyn Forché
Toronto, June 2, 2010
The Griffin Trust for Excellence in Poetry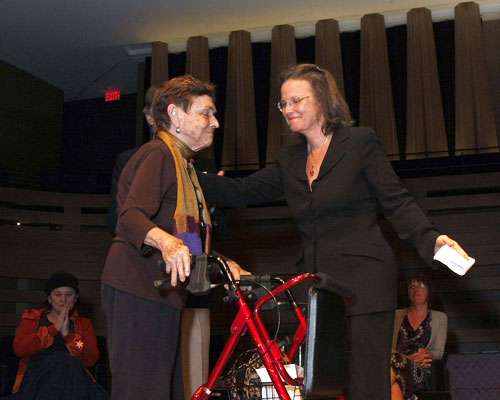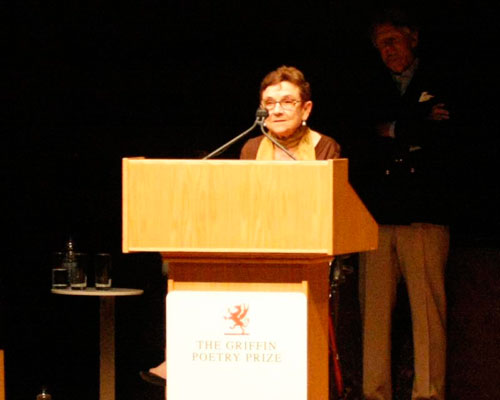 Adrienne Rich offered this gracious acceptance speech:
This is a signal honor, with added meaning for me because of the transnational mission of the Griffin Poetry Awards. Literature has often crossed borders with contraband in its backpack. The work of Canadian writers has pressed into my imagination – and my sense of reality. As my thanks I will just mention some – not all of them poets – living and dead – to stand for a larger roster:
Margaret Atwood
Margaret Avison
Marie-Claire Blais
Robin Blaser
Tim Bowling
Dionne Brand
Nicole Brossard
Mavis Gallant
Claire Harris
Naomi Klein
Daphne Marlatt
Marlene Nourbese Phillip
Michael Ontdaatje
Lisa Robertson
Elise Turcotte
Fred Wah
I also thank Scott Griffin, and all those who have brought us together here in Toronto.
The following evening, at the Griffin awards ceremony, Adrienne Rich recited three of her poems.
Tonight No Poetry Will Serve

Saw you walking barefoot
taking a long look
at the new moon's eyelid

later spread
sleep-fallen, naked in your dark hair
asleep but not oblivious
of the unslept unsleeping
elsewhere

Tonight I think
no poetry
will serve

Syntax of rendition:

verb pilots the plane
adverb modifies action

verb force-feeds noun
submerges the subject
noun is choking
verb disgraced goes on doing

now diagram the sentence

© Adrienne Rich
[from Tonight No Poetry Will Serve: Poems 2007-2010,
W.W. Norton, 2011}
Variations on Lines From a Canadian Poet

I needed a genre for the times I go phantom. I needed a genre to rampage Liberty, haunt the foul freedom of silence. I needed a genre to pry loose Liberty from an
impacted marriage with the soil. I needed a genre to gloss my ancestress' complicity …

(Lisa Robertson, Xeclogue, 1993)

I need a gloss for the silence implicit in my legacy

for phantom Liberty standing bridal at my harbor

I need a gauze to slow the hemorrhaging of my history

I need an ancestor complicit in my undercover prying

I need soil that whirls and spirals upward
somewhere else

I need dustbowl, sand dune, dustdevils for roots

I need the border-crossing eye of a tornado

I need an ancestor fleeing into Canada

to rampage freedom there or keep on fleeing

to keep on fleeing or invent a genre

to distemper ideology

[©2004 Adrienne Rich, from The School Among the Ruins, W.W.Norton]
Ballade of the Poverties

There's the poverty of the cockroach kingdom and the
rusted toilet bowl
The poverty of to steal food for the first time
The poverty of to mouth a penis for a paycheck
The poverty of sweet charity ladling
Soup for the poor who must always be there for that
There's poverty of theory poverty of swollen belly shamed
Poverty of the diploma or ballot that goes nowhere
Princes of predation let me tell you
There are poverties and there are poverties

There's the poverty of cheap luggage bursted open at
immigration
Poverty of the turned head averted eye
The poverty of bored sex of tormented sex
The poverty of the bounced check poverty of the dumpster dive
The poverty of the pawned horn of the smashed reading
glasses
The poverty pushing the sheeted gurney the poverty cleaning
up the puke
The poverty of the pavement artist the poverty passed-out
on pavement
Princes of finance you who have not lain there
There are poverties and there are poverties

There is the poverty of hand-to-mouth and door-to-door
And the poverty of stories patched-up to sell there
There's the poverty of the child thumbing the Interstate
And the poverty of the bride enlisting for war
There is the poverty of stones fisted in pocket
And the poverty of the village bulldozed to rubble
There's the poverty of coming home not as you left it
And the poverty of how would you ever end it
Princes of weaponry who have not ever tasted war
There are poverties and there are poverties

There's the poverty of wages wired for the funeral you
Can't get to the poverty of bodies lying unburied
There's the poverty of labor offered silently on the curb
The poverty of the no-contact prison visit
There's the poverty of yard sale scrapings spread
And rejected the poverty of eviction, wedding bed out on street
Prince let me tell you who will never learn through words
There are poverties and there are poverties

You who travel by private jet like a housefly
Buzzing with the other flies of plundered poverties
Princes and courtiers who will never learn through words
Here's a mirror you can look into: take it: it's yours.

© Adrienne Rich 2009, from Tonight No Poetry Will Serve: Poems 2007-2010.
(W.W.Norton, 2011)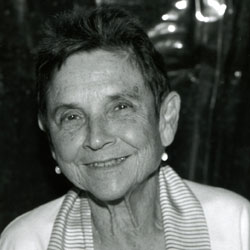 Biography of Adrienne Rich
Since receiving the Yale Younger Poets Award in 1951 (from judge W.H. Auden), at the age of 21, Adrienne Rich has not stopped writing in her distinct voice, with strength and conviction. Rich has said that her poetry seeks to create a dialectical relationship between "the personal, or lyric voice, and the so-called political – really, the voice of the individual speaking not just to herself, or to a beloved friend, but to and from a collective, a social realm." Her poetry and prose are taught in literature, creative writing, and gender and gay studies courses across the country and abroad. Her National Book Critics' Circle Award citation explains: "Rich has captured with subversive wit, compassion, precision, supple poetics, toughness and yes, opposition and resistance, what life has been like in the opening years of a new century. How we've been under siege in insidious ways at home while waging war abroad. Rich writes of disruption, dislocation, disconnection. But she is also ravishingly lyrical, inventive, philosophical, sensual. She makes things whole again."
Adrienne Rich is the recipient of the 1999 Lannan Foundation Lifetime Achievement Award. She has also been distinguished by an Academy of American Poets Fellowship, the Ruth Lilly Poetry Prize, the Common Wealth Award in Literature, the National Book Award, the 1996 Tanning Award for Mastery in the Art of Poetry, and the MacArthur Fellowship. In 2003, Adrienne Rich was awarded the Bollingen Prize for Poetry. She is the author of more than sixteen volumes of poetry, including Diving into the Wreck, The Dream of a Common Language, The Fact of a Doorframe: Selected Poems 1950-2001, An Atlas of the Difficult World: Poems 1988-1991, Collected Early Poems: 1950-1970, Dark Fields of the Republic: Poems 1991-1995, Midnight Salvage, Fox, and The School Among The Ruins, as well as the prose book Of Woman Born. She has also authored five books of non-fiction prose, including Of Woman Born: Motherhood as Experience and Institution and What is Found There: Notebooks on Poetry and Politics (2003). She is the author of the book of essays entitled Arts of the Possible: Essays & Conversations. She edited Muriel Rukeyser's Selected Poems for the Library of America (2004) and has published essays on the letters of Robert Duncan and Denise Levertov, on June Jordan and James Baldwin, and a preface to Manifesto: Three Classic Essays On How to Change the World (Ocean Press, Australia, 2005). Her collection The School Among the Ruins, was honoured with the National Book Critics Circle Award and was chosen as one of Library Journal's Best Poetry picks of 2004. It was also selected to receive the 2006 San Francisco Poetry Center Book Award (judge, Mark McMorris). In 2006, Adrienne Rich was awarded the Medal for Distinguished Contribution to American Letters by the National Book Foundation. The judges articulated this distinction as follows: "Adrienne Rich – in recognition of her incomparable influence and achievement as a poet and nonfiction writer. For more than fifty years, her eloquent and visionary writings have shaped the world of poetry as well as feminist and political thought." Her essay on "Poetry and Commitment" was published by Norton in spring 2007, in a small book with Mark Doty's introduction at the National Book Foundation event. Adrienne Rich's newest book of poems is Telephone Ringing in the Labyrinth (October 2007). Her new collection of essays, A Human Eye: Essays on Art in Society, was published in May 2009 with Norton.
The following are links to other Web sites with information about poet Adrienne Rich. (Note: All links to external Web sites open in a new browser window.)
The Griffin Trust notes with great sadness that Adrienne Rich died on March 28, 2012. Many moving tributes to her and her work and influence have been swiftly published – here is a selection:
Photo credits:
Griffin event, by J Rees/Tom Sandler Photography
Portrait, by Lilian Kemp